Wintergrim
- a Nattsmyg card game

Asheim Vanheim Godheim Helheim
The first who arrived from the sea, called it Asheim. They discovered a land with ancient cultures, unpredictable weather and forest-dwelling humans allied with strange creatures and spirits. At first everyone was cautious...

Years later, sparked by the death of an asheim jarl in a sudden windstorm, the coast dwelling warriors of Asheim make their revenging assaults over the frozen hills of Wintergrim, east through Stormshade on the spirits of Vanheim, a realm of strangely lush forests in an otherwise wintry mountain area. The time has come to seek control over the mountain dwelling creatures that seem to warm and cool the winds to the will of the spirits.

From the dark moors of Helheim, north of the wintry mountain range, abandoned and vengeful gods from the past find their way through the underworld, spreading sickness and sending demons in the night. The news of foul creatures and heathens defiling the land in the north has led crusaders to create a colony in the south, named Godheim, from which armoured priests and inquisitors slowly moves to cleanse the land.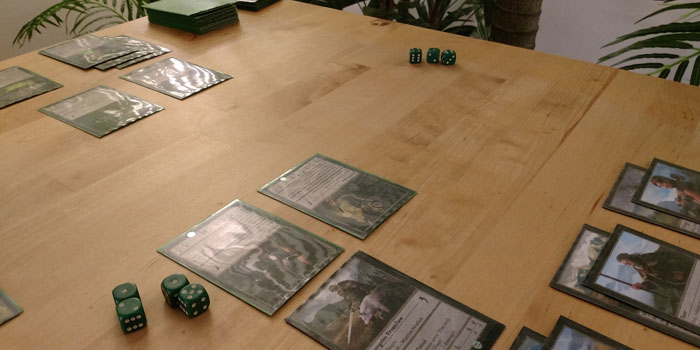 Wintergrim is a turn-based strategic card game made for 2 or more players (it has mostly been tested with 2 players). Find new areas and paths, build structures, hire workers, warriors and leaders, and use tactics and weather to your advantage in several game modes.
Each player has his/her own deck of 50 cards, and atleast 1 dice. Decks are printed in pairs, and the first pair features Vanheim and Asheim, called: Spirits Of Summer & Wolves Of Winter.